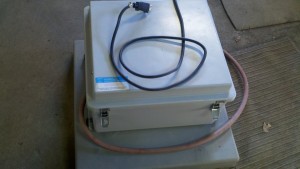 This is a quarter horse wobble piston type compressor which is capable of properly aerating a 1 acre pond that is 12' deeper deeper. Included is the Fiberglass cabinet housing mounted to the platform with cooling fan and manual timer for spring start ups. 100' 3/8 self weighted tubing and the rubber membrane diffuser.
Used only one year, rubber membrane diffusers are new, 100' weighted tubing and air cleaner. Complete kit ready to get to work for your pond.
Ideally this is priced for local pick up, if you wish to purchase and have shipped please contact us first to quote shipping costs.

Price:
Looks like you have entered a product ID () that doesn't exist in the product database. Please check your product ID value again!