Always building something! How about a Farm Pond Deck?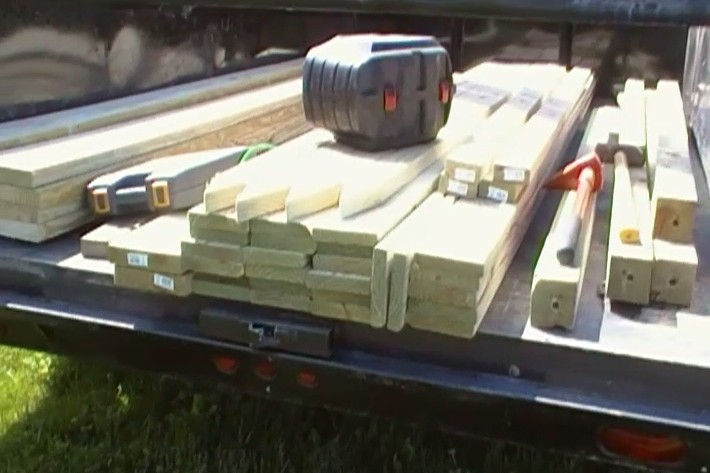 Building a dock (pier) on the farm pond was a little challenge with the pond being full of water. But as you'll see I found a way to get er done and didn't fall in the water. The pond deck provides an area where you can feel like you're walking out to the middle of the pond, on a hot day jump off and go swimming or just dangle your feet in the water for the Koi pedicure.
The railing was made short for a seat and if in a chair it's a table for your favorite beverage.  And of course just lay down and relax in the sun and hear the sounds of nature in the back ground. There is a frog that lives under the deck and really echoes when he croaks. The look on friend's faces when he sounds off is pretty funny, "What was that"? we just chuckle!!
The deck is 12'x12' and provides plenty of room for folks to hang out on. Also provides shade for the Koi fish when the weather is hot. Seems they like to play hide and seek swimming in and out of the shade.
The hardest part was figuring out how to get the posts out in the water in the right location but watch the movie to see how I got this done. If it wasn't for the floatation devices I would have had to come up with another plan. Now I don't think I can say where I got the free floatation devices here on the internet but shoot me an email and I'll be glad to let you know. The original use for these blocks was my wife idea of making those 123 and ABC blocks for photography I just borrowed them for a little bit ;>)
Caution!! Do not build your deck like this if you have a pond liner or thin layer of clay. The posts will puncture a hole
thru the liner or thin layer of clay and create major leaks and a big bummer.
Another great addition for the farm pond and its many uses. One of which is for the kids to go swimming. This helps save the shores from being tore up from getting out of the pond. Now they can swim?? Or jump off climb up the ladder, jump off and repeat.
Now available is our remade video of the farm pond deck, the floating dock and the floating pier instructions in pdf format and the floating dock plans. This is a downloadable product so you can have it ASAP.
Farm Pond Deck, Floating Dock & Pier
Step by step guide with images and plans to build a floating dock pier and a farm pond deck.This product is electronic delivery so you will receive right away, no waiting for shipping. Bonus video download in the resources section!
Price: $12.95
 On the other hand if you were to build a floating dock and looking for a permanent floating solution check out http://insulboard.com
They make the foam and cut to whatever size you need. Let them know I sent you if you should choose this route.
For all Your pond needs feel free to contact us and be sure to check out our all natural pond cleaning products, Pond Dye to Muck Reduction.