[wp_eStore_fancy1 id=123]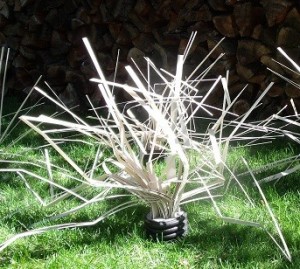 The Bassinet small fry fish habitat structure is just the type of tight space your smallest fish need to stay safe. With half the strands of the Cradle model, a burst of fine, dense habitat to defend against predators.
This down-sized version of our larger Cradle fish habitat, gives smaller koi and goldfish the same needed cover they deserve. Bass fry and forage minnows flourish in the protection.
All types of garden pond fish utilize the shading and concealing effects of this habitat. Protection as well as shade and comfort. Stands 24″ tall and weighs 4.5 pounds. Opens to 45″ wide.
Bend by hand and place in pond. All units are self weighted and stay in place. To clean, just spray with water. Pliable pvc creates habitat for fish providing needed cover.
Made in the USA with American made materials. Go-green and help improve fish habitat with fishiding. Reclaimed pvc limbs provide an eco.-friendly solution to fish habitat.