The cabinet that houses the compressor in the aeration systems is a crucial part of the system. Heat is the largest enemy of the compressors and could short the life of the compressor considerably. The second part of the cabinet it to weather proof the motor of the aeration system. A good cabinet should have a cooling fan installed to provide moving air over the compressor. The cabinets below also have an outlet to plug in the fan and aeration compressor. Locking cabinets are great for tamper proofing your system from mischief.
[wp_eStore_fancy10 id=208]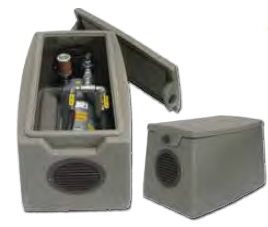 This roto-molded polyethylene cabinet is an economical alternative to the steel cabinets. Designed to hold air compressors up to the RV33  1/4 hp rotary vane) in size. The small foot print makes it easy to hide!
• Ideal for housing all linear compressors, DC22 (PA10), DC12 (PA12),
ERP25 (PA34), ERP50 (PA66) and RV33 (PA50)
• Roto-molded in a tan color which blends into existing landscape well Weatherproof Cabinets.
• Built in louver allows fresh air into cabinet, an optional cooling fan is recommended for large compressors or in hot locations, fan comes installed in second vent hole with louver. 15″ x 25″ x 15″h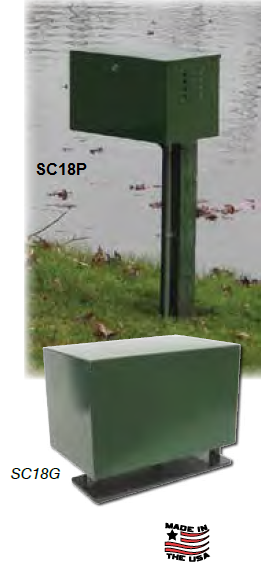 Post Mounted Lockable Cabinets
Top and front wall open for easy
access and service
• 111/2″ x 18″ x 111/2″ – will hold all linear compressors and the DC12, DC22, ERP25, ERP50 compressors
• 18 gauge galvanized steel with powder coat finish
• Three 11/4″ knock outs for airlines plus one for power source
• All cabinets come complete with mounting bracket and cooling fan
• Also available with a raised base for use on the ground when pole mounting is not an option.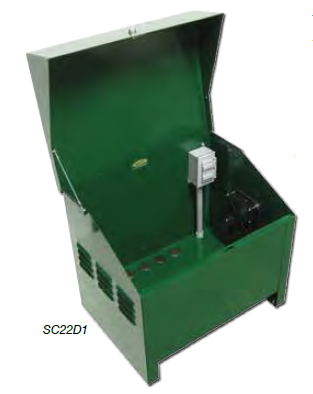 Lockable Steel Cabinets Deluxe Cabinet:
• 161/2″ W x 22″ L x 19″ H – will hold all compressors up to RV100 or multiple smaller units with stainless steel lock to protect against vandalism
• 14 gauge galvanized steel with powder coat paint finish
• Includes compressor mounting base to keep compressor up off floor
• Tapered lid – makes front wall shorter allowing easier access to compressor
• Has six 11/4″ knockouts for airlines and one knockout for incoming power
• Cooling fan kits include fan, power cord, guard and hardware
• Electrical box has 1/2″ conduit plumbed through floor for easy wiring
• Electrical component kits include outlet, fittings and hardware