We can work by internet and email or hands on local to Erie County Pa. even small trips to surrounding cities. Any questions, concerns or needs please fill out the contact us page.
Not only consulting and helping develop a plan but also managing the pond for you if you wish, sizing for aeration systems, fountains and beneficial products for water quality and clarity. Weed problems can managed biologically,  manually, machine benthic barriers or herbicide treatment.
There are many different products out on the market today some good some not so good. WhatPond has access to most all products from the manufacturer, some are not on the website yet since we are examining and testing what works and what doesn't.
Please click the Contact  button above in the menu bar, fill out the form and get started bringing your pond or lake back into shape.
Some examples are below. We may be new to offering service in the area or the internet but rest assured your pond will be treated as our own and bring years of experience on the table from WhatPond, experts and our suppliers.
 Pond Aeration System sizing and installation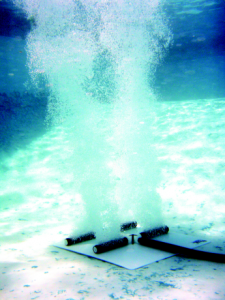 Having too much aeration is not a problem but coming up short will be lead to problems. How does Aeration help?
• Provides Maximum Water Circulation and Aeration
• Keeps Water Clear and Fish Healthy
• Reduces Mucky Bottoms
• Reduces Pond Maintenance
• Reduces the Chance of Fish Kill
Bind Phosphorus to the bottom.
Reduce the foul smells

By aerial mapping we calculate your pond or lake acreage and total volume of water. From these figures we work out the proper gallon per hour to turn over the water column at minimum once per day to achieve proper aeration. Aeration systems from small Koi pond and water gardens  to 6 acres or more are pre-designed systems. Over six acres custom aeration system will be recommended and diffuser placements mapped out. Each pond is unique in size, shape and depth and every pond will be calculated for the most efficient system. Along with the aerial mapping we can figure the compressor cabinet at the shore line or calculate friction loss and tubing size to place compressor cabinet near the power source. Then trench to the pond shore line for the correct sized direct bury tubing.
Costs vary: Order and install yourself, or let us do it for you, mileage and costs are calculated to location and size of system. To have your pond sized please  contact us with the pond location. Aerial mapping is Free of charge where available. If you would like to see the various aeration systems check out the aeration page.
Caution…not all aeration systems, types or forms of aeration are created equal, please ask about your specific ponds needs. or download our Free Consumer Aeration Report.
Pond Fountains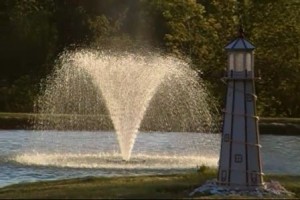 With over 34 display patterns and horse power ranging from ½ to 40 hp you could find yourself a little overwhelmed and confusion can happen.
For ponds and lakes display aerators are recommended not just for the beautiful displays but aeration benefits as well. These range from ½ to 7 hp (Select Series).
Business or commercial water features not requiring aeration, fountains can be as large as 40 hp and shooting 100' feet into the air. As with all fountains and display aerators optional lighting is available as well. Feel Free to browse our fountain page to see available fountains, display patterns and lighting options.
For the ½ hp Evolution Fountain please see below for the local opportunities. Any other Fountain needs simply  contact us to request help in sizing or designing your fountain.
Pond & Lake Consulting
We can do this online or in person. Visual inspection of the pond noting anything out of the ordinary as well as good features and we'll go over your questions and work up an actionable plan to bring your pond back to life, save the fish and improve the ponds ecosystem. Included is aerial mapping design and calculation for the proper sized aeration system. Along with all your questions answered that we discussed. There are different ways to care for a pond and these will be brought to the table as well.  The plan involves everything from aeration, fountain if desired, beneficial bacteria's, pond dye, fish habitat even planting suggestion for erosion control and or plants to help consume excess nutrients. Weed control options as well using chemicals as the last resort.
Local to Erie county I charge $65 for coming to your pond, answer question and help to come up with a plan for your management needs.
Pond Weed Removal
Offering three methods to manage weeds as we cannot totally be rid of pond weeds. Why? They will come back, the same year or  next year, it's the nature of the beast. The best way to handle weeds is to manage their presence biologically, manual/mechanical and last resort with chemicals. Or have your pond sized for aeration and beneficial bacteria to help remove and lock up nutrients the weeds need to grow. This is a part of the consulting process to determine which way to approach the problem pond weeds.
We also have machines for submerged weed cutting 48″ wide and up to 7′ deep along with our special pond trimmer for shoreline weeds like cattails. The most important thing to do in the fall is to get the mass of weeds out and away from the pond. IF not it will become another MUCK next year. This is very labor intensive.
Update: Applying for a permit to treat your pond with herbicides has become more expensive. I charge $65 to fill out all the details and the application process thru the DEP was free. They are now charging $250 for new and renewal of permits and $100 for an amendment.
Fish Habitat 
A better way to help the little fry survive to grow and become "the big one". Not only for the little guys but will also help provide shade for the fish to cool off. Fish habitat can be used by existing plants in the pond by shaping or cutting using the recommended 40% coverage. Or by adding artificial fish habitat structure  if desired. You can add rock ruble piles, trees that have a lot of branches and so on.
Light Trenching
Part of the aeration installation is trenching. Using a ground saw we cut a 2 1/2″ wide by 10″ deep trench. Depending on the type soil, tree roots or rocks the price by foot varies from $1 a foot to $3 a foot.