WhatPond is Your source for pond help, information, products & tools from Learning What a pond is to Managing Your pond without chemicals!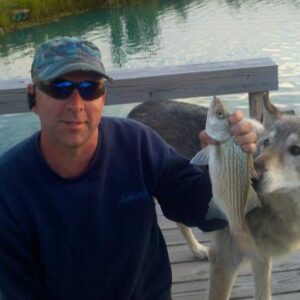 WhatPond was created by Darrell Rhoades, a fellow who is a do it yourself type person, background in plastic injection mold building and repair going on 33 years and still at it. Operating heavy equipment around the property (landscaping) and built his and his wife's own home, barns and eventually two ponds. The ponds have become the focal point for Darrell, Wanda, their four legged kids,  the neighborhood and family events. (One quick note on Darrell's picture, he's not hiding behind the glasses, only hiding his eyes from the sun and tan lines to prove it).
Not just a focal point but a part of life for them and all the wildlife that share what the pond has to offer. From the smallest of creatures making the pond their home to deer stopping in for a drink, family picnics, relaxation even mini stay-cation's.

The start of WhatPond was to help find information about building a pond since the vast internet didn't have that information at the time Darrell built his first pond. Once the pond was finished new questions came up,
"How do you build a pond","why is the water green" "what's that smell" Why did all the fish die?
Plus many more that are covered in the website and WhatPond's
FREE Membership
is Now open, with books and videos for your education.
When the time came to manage the ponds Darrell didn't just guess at what to use for pond maintenance, which is  wasting time and hard earned money but tracked down the experts to find solutions to the pond problems. Tracked down manufacturers, checked out their products for price, quality and function instead of going with the least expensive and keeps up with the latest techniques, tools and supplies for pond management.
WhatPond is striving to be chemical free in managing ponds including his own. Yes it takes time and a little work but knowing we are not harming the environment is worth it. Did you know ponds are like snowflakes? No two ponds are alike, pond owners have different management goals, and the pond's characteristics present different ways to manage them from water quality, fish management, plant management, uses to the water entering the pond.
Darrell has a passion for ponds, his own and for others who need help in maintaining their own Oasis. Here's what just one person said:
Awesome, Thank You for all the help and information.
The website has a ton of information and your passion for ponds show.
Thanks Sam
This is the best pond site EVER. Emailed some questions and never have I received such a prompt, genuine and helpful reply! I will definitely contact WhatPond when we are ready for a fountain and aeration system. Again, thank you and God Bless! ~Carolyn Harward
Carolyn North Carolina
Darrell Rhoades has been in your shoes from pond building to managing ponds without nuking them. Feel free to browse the website, use the Contact form, or click the image below to see the books and videos in the Free Membership Area.