This PondSeal page has changed, please be aware there will no longer be small quantities offered and only large quantities as a request for quote for significant projects or tonnage. Please feel free to read on to learn more about pondseal and listen to the interview. If you have questions about a leaking pond and need help or ideas on how to fix it please use the contact page to let us know how we can help.
Help for your leaking pond is now easier than you could imagine… there is a new product on the block called PONDSEAL. Whether you have a leak in an existing pond basin or are installing a new waterway, PONDSEAL is there and ready to hold your water.
Not that its brand new but truth be told, the technology has been around (as AquaBlok®) for about 10 years now – but it has historically been used for a different reason . . .  to separate clean water from contaminated sediments. Additional formulations and smaller-unit packaging options have introduced a whole new way to fix a leaky pond or to seal areas of gravel, sand, or other porous materials while digging the pond.
Picture this… The pond is all finished, full of water, and you decide to put in a dock, deck, or duck house. Next thing you know the water level is going down because you just put a hole in the pond liner or through the clay liner. Sodium bentonite clay is a great solution and sealant, but how do you get this fine powder around those poles? The clay is a fine grained powder like baking soda or flour that clumps when it gets wet – so it's often very difficult to place where you want it.
What if it was like sand where there is some weight behind it and you could easily distribute the material around those poles and know you are hitting the target area – not waiting for the powder to get wet and just hoping that it hits its mark?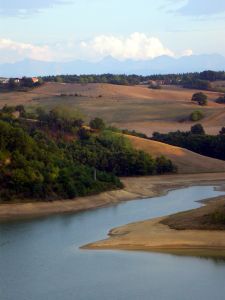 This is where PONDSEAL comes to the rescue. This innovative technology is simply a tiny rock reliably coated with high-grade, powdered sodium bentonite. Picture a peanut M&M with the peanut as the rock and the chocolate candy shell as the sodium bentonite. Due to the weight and structure of this "composite," now you know when you place the bentonite clay through the water it is actually going where you want it – and need it.
A new pond building project with marginal soils (not up to par for water containment) offers many opportunities to use this product. As an example, when building a farm pond 10 feet deep, it would only take a layer of PONDSEAL one inch thick to seal the entire pond. That works out to about seven pounds of material per square foot.
Some of the other uses for PONDSEAL are to fill in muskrat holes, repair damage from rotted tree roots, patch a leak in a synthetic pond liner, reinforce control structures like overflows, or seal around pipe entering or exiting the basin as an anti seep collar. The material can make all of these projects a lot simpler.
Listen to the audio below, where Darrell Rhoades interviews Eric Kraus to learn more about PONDSEAL, what it is, what it does, and to hear more technical in-depth questions about the product.  Listen carefully to find out if your pond is leaking or if it is just evaporation. If you have a problem, see how simple PONDSEAL is to use. Click the play button to listen to the interview.
Please shoot us an email for a quote as shipping is a factor and to help determine amount you may need. Typical application is 7 pounds per square foot on flat or sloped sides. If the sides are 40 degrees or steeper, it is suggested not to use Pond Seal as it will just roll down to the bottom of the pond.