The Evolution Fountain is easy to install, not hard on the electric bill, excellent display patterns with attention focused on quality and price. For example the Tornado display falls back to the pond in a perfect circle as seen in the pictures and video below.  Moving 134 gallons per minute or over 8,000 gallons an hour this fountain can aerate up to a 1/2 acre pond with no problem.
You can also check out the display patterns on Aqua Controls Evolution page, click on the pattern to see video.
Before you order please be sure to figure out the length of motor cord you will need. What you will need is an outlet close to the ponds edge and this power source should be above ground in case of flooding and on a GFI circuit. Measuring up the motor cord length. For the sake of easy math we have a 100′ diameter pond and want the Evolution fountain in the middle. Half of 100′ is 50′ feet but will not reach the middle of the pond. Here's why, picture walking out to the middle of the pond. As you reach the middle you've gone down and now looking straight up we need to add that depth to the length of cord. In this example a 100′ motor cord would apply. Using the 50′ cord is possible but the fountain will not be in the center of the pond.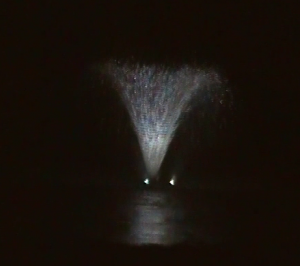 Adding the optional light kit be sure to purchase the same length cord as the fountain. Cool white LED lights are standard.
Optional spray patterns,don't forget the fountain comes standard with the Tornado pattern or small torrent pattern which moves the most amount of water. Click the Spray pattern picture for a larger view. Then simply hit your back button to return to this page.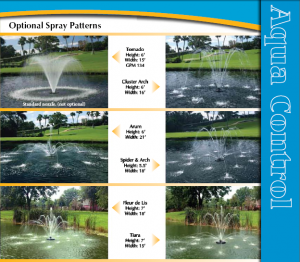 This affordable 1/2 HP is the perfect solution for small ponds. Matching beauty with function and price. Additional patterns available for stationary applications. Please see the Stationary Series page.
Your Evolution Fountain is as easy as 1,2,3:
1) Pick your spray pattern
All fountains start with the Tornado spray pattern
Select one nozzle to create a new pattern
2) Add lights (if desired)
3W LED lighting fixture sets (set of four Cool White lights)
Colors available (Red, Blue, Green, Amber or Warm White)
9W LED lighting fixture sets (set of four Cool White lights)
Colors available (Red, Blue, Green or Amber)
3) Select motor cord length
50', 100' or 175' Motor Cord
Feel free to use the contact form for help in ordering the right size and length or if choosing to purchase below click the drop down menu to select fountain cord length,  if choosing to add lighting click the lighting drop down and match the same fountain cord length and the same works for the display nozzles.
Watch the video below and see how easy the Evolution Fountain is to install.