Wow amazing weather the past few days and hopefully sticks around through the summer.
Spring has hit and life is just popping up all over, even at the pond, below is a short video of some of the events going on at the pond. From the Koi surfacing and their first feeding to the frog out sunbathing or at least trying to shake the winter hibernation blue's and get warmed up to move. He didn't even blink when touched.
As we walked around we found perch eggs and that is exciting. Hoping to see some little perch again this year when it's feeding time for the Koi.
Bringing out the floating dock and the lighthouse is a little work but well worth the effort in the end as they will be enjoyed through the rest of the summer months. The dock is a little hard to paddle around but so nice to b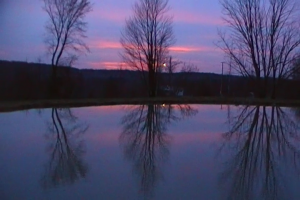 e out on the water and have a feeling that no one can get to you. Let the breeze blow you around and feel the action of the little ripples of the water.
Two days away to the Pond and Lake water Quality Workshop and still have things to get done.
Enjoy the video and comments are always welcome.