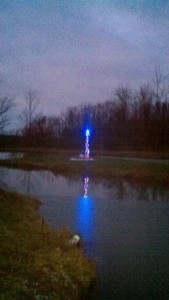 Wishing You a Merry Christmas and an Awesome New Year. You never know what life or nature can throw at you so enjoy the upcoming Holidays.
I would like to start by saying, the below video is not my house or video but I wanted to share it with you, I think its awesome. Sure gives me ideas but I think the decorating would have to start sometime in July to get it all done. The above picture is from the peninsula at our pond.
Take care and be safe over the next couple of Holidays we have a lot more in store for next year and already in the works.
Again this is not my video I only wanted to share it with for the Holidays. All credits go to Holdman Lighting.
Enjoy the season.
Comments welcome.