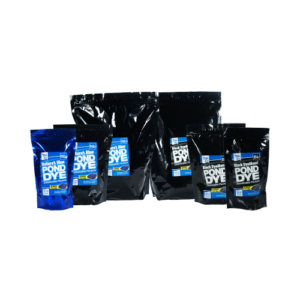 Pond Dye Packets are a cool idea, less mess no worries about freezing and easy to use. Have a ½ acre pond then you would only toss in one water soluble packet to color the water which adds shade to help to prevent photosynthesis, add 2 packets for a richer color and even more sun blocking benefits, sort of like sunglasses on the pond.
As always I want to try out these new products before I let you know about them, make sure they work as advertised and do the job they are suppose to. Plus if there is anything that could go wrong, goof up or make some sort of mistake I try to figure out that too.
Well, this is one of those cases where I did not follow the direction and want to add, "DO NOT TOUCH THE BAG ONCE ITS IN THE WATER" as show in the video below!
Here's what happened, actually I did editing of the video Pond Dye Packets to flow through on what they are, how to use, distribution of the dye and what it looks like in the end. The video below is from the same day's event picking up from the video above.
It was a windy day and when I tossed the bag into the pond I missed my mark, being within the ring of the fountain. The packet blew to shore so I thought I would carefully pick it up and toss it back into the ring. When you see the little cloud blow by me when I toss the bag the fun begins.
My camera girl, is my little woman and she really didn't want to let this video out. Wanda is her name and once I got back to the pond deck she lost it with giggles as I tried to explain on the video what not to do. One part of the video she thought the camera was off which makes it even funnier.
Enjoy the video, grab a tissue for your tears and…well, we're all human.
We use Pond Dye every year on our ponds, liquid or powder, love the color and benefits. Below the video are other links to more information on pond dye and videos, sort of technical and Q&A. Click here, Pond Dye Packets for more details, usage and the edited version of the video.

More on Pond Dyes:
Pond Dye Q&A
Pond Dye use
Watch the video at the bottom of the Pond Dye Post
[wp_eStore_fancy1 id=115]