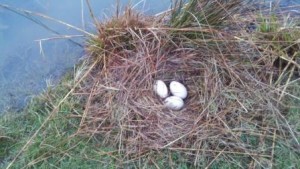 Winter just wouldn't let go and by time it did it was too late.
Spring arrived at WhatPond and the two legged nutrient machines have been coming around for a month now and it didn't take much to get them to leave, simply walk towards them and off they go.
Our usual geese deterrent is the floating fountain and it is enough to keep them away from our ponds, plus a little help with the decoy swan they usually take off or don't even bother to land.
Funny how the geese will come over the trees, spread their wings to land and at the same time see the fountain and they get back to flying to the next pond. We've seen the geese a little concerned with swan decoy while at the upper pond they were starting to walk to the lower pond and spotted the decoy, stood there a few minutes and flew off. But remember if using a decoy it needs move every couple days so it does not become a statue and be ignored.
Alright back to the long lasting winter. With ice still on the ponds the geese were still able to use the area where the diffusers are running to keep the decks free of ice so not much problem showing the away.
I wanted to get the fountain in but the ice and weather wouldn't allow it. Once the ice was off the pond I went to put out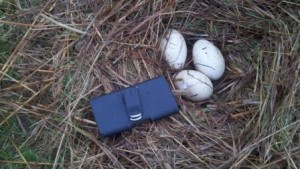 the swan decoy…but the geese didn't fly off this time, actually I only saw one goose, hmmm where is the other goose? You guessed it sitting on eggs at the tip of the peninsula.
Sure they're cute and all but can really put a hurting' on the pond water quality. Now we are stuck with these guys until the eggs are hatched and the little guys fly off to another pond.
So just before I dropped in the swan I saw the one goose, the wind was blowing and by the time I got both geese in the water the swan ended up facing shore a couple feet away from the goose nest, the geese didn't back to the nest for a ½ hour after the swan got blown off the shore.
On my way out on the deck to check on the geese I saw another object at the little pond, yep the blue heron, he scared easy with a few claps of the hand. It's still too early to put out the heron decoy due to mating season.
There you have it, spring is here, just the weather is not cooperating as of yet.