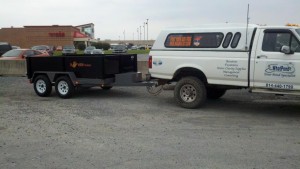 Yes not exactly about pond building but it all works out in the end or at least the end of the tailgate. For years I drove a 1 ton dump 4×4 dump, awesome truck for plowing snow and the ability to dump a load every now and then. The drawback was the $196 registration fee each year.
Remember Thanksgiving dinner? Eating too much and filling your plate too full? Well I sort of did that with the first trailer I bought figuring I could haul my tractor on it, it would need to be rather long, 16 feet to be exact and haul 10,000 lbs.
There were no pictures to see what this 16' trailer would look like but just knew it had what I was looking for, so I ordered it and when I picked it up I noticed it had rather a heavy tongue weight since the wheels need to be at the back of the trailer so when the load went up the trailer load wouldn't pick the back of the truck up.
One thing I can tell you is I went to work looking for a trailer that was well built, would hold up to wear and tear and would last for years to come. I can also tell you while shopping for my ideal trailer I found countless dealers with the same specs but way different prices, prices that were out of my price range.
What I did find was a manufacturer who would sell to the public and saved a lot of money going to the manufacturer instead of a dealer. Not many manufacturers will do this and will send you on your way to your nearest dealer.
Alright back to the theme of the story. I bought the 16' and pulled it around everywhere and the most use was when we were building the pond. We had a lot of fill that needed to get to the front of the pond and the trailer did the job nicely and hauled more than the one ton dump could ever do. But after the pond the trailer was just too big and never took the tractor anywhere so we went for a 12' version, a lot less tongue weight but still the trailer empty was around 4200 lbs.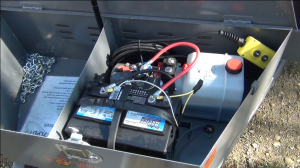 Long story short I ended up selling the 12 footer and got a lighter duty trailer which only weighs in at 2050 lbs empty. Solidly built and able to tow around with greater ease, some of the features of this new trailer are better than others, for example the stake pockets are actually large enough for a 2 x 4 to fit in without having to shave them down, the box that holds the battery and pump is large enough you can haul your straps, tarp or tools that might be needed. The fenders are pretty tough that you can stand on to get into the trailer. Over all I really like this trailer, looks (powder coated), tows great, very good quality and user friendly.
From the fist video I put up on You Tube https://youtu.be/Plskd2eaZYothe comments went on about how slow it raised up or it was too slow. Personally I think it is plenty fast enough, the 16 footer does look slow but it is long trailer, but the 10' trailer we have now looks to go faster. Still not sure about the need for speed in dumping, it is much faster than unloading by hand and if you are on a job site are you time on dumping speed?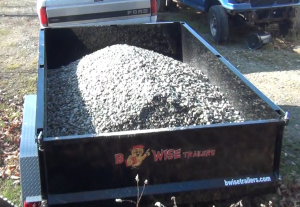 Anyways I like the new trailer by B Wise Trailers made in Chambersburg, PA. It was a little drive to go pick it up but the savings of buying from the manufacturer are well worth the trip. Watch the video below of the new 6 x 10 x 7,000 lb dump trailer.