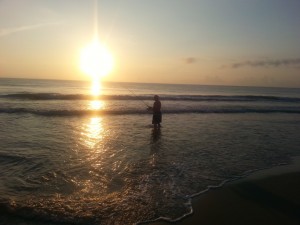 We made it to the big 30 and the Big Pond again to celebrate our 30th anniversary. We stay the same place we did on our 25th and just love it here.
It is the Oceanside Court at the 15.5 mile post. A private little community of cottages and efficiencies with your own access to the beach. No public access is aloud so it keeps our little court down on traffic and strangers. This is a place you can call home for the week, we stayed in an efficiency, actually #11 both times and maybe I didn't notice the first time but when we pulled in this year we saw names on each of the units, yep our name was on #11, what a nice personal touch going a step further to make you feel at home. If you are thinking about visiting the Outer Banks check out Ocean Side Court, easy access to the beach, close to stores, and an ice cream shop just across the street. Rates are reasonable and check the rates for pre and post season, they are a little cheaper that way.
We've been coming to the outer banks every other year for some time now and find it the best place to get the three R's. REST, RELAX and REJUVENATE. Everyone looks at me sort of strangely though because I take time to go check and answer emails, get orders shipped and maybe do a little typing. What they don't know is I enjoy what I do when I'm on vacation, helping others with their pond problems, getting emails answered and such. We are on vacation to escape the daily routine from our day jobs, but if your passionate about what you do and on vacation why not take the time to do what you can to help those looking for answers.
Our 30th vacation week was totally relaxing, I mean it was tough getting up and heading to the beach to surf fish in the morning. But once folks came to swim we went to the cottage and packed our beach bags for the rest of the day at the beach, set up the easy up and camped out all day on the beach taking break to wade in the water, get some sun and relax in the shade then repeat through-out the day until it was time to fish again, whew what a day.
On to our anniversary day, we went out to eat trying a new restaurant over looking the sound and harbor and I slipped my little women a small package as I said "look over there at that thing" LOL. Yes she was surprised but then added I forgot yours at home so you'll have to wait till we get home.
No big deal, I am patient but never knew what she had in store and we continued our time at the beach. When we got home (11 hour trip) I was driving up the drive and noticed a strange color on our little barn, it should of looked like greyish (one white) shingles with black corners rolling up and missing shingles but it had a brownish color to it. At first I thought the sun was playing tricks. Nope Wanda had the roof replaced while we were gone.
That was a big surprise and very much appreciated since Darrel and heights don't get along to well, plus it would of taken me a long time to do it. The reason the roof was replaced was too many leaks. We had up to eight buckets under leaks to protect the WhatPond products down stairs. After Sandy came through last year we saw puddles making to the first floor, not good. But now we have a leak free roof, I didn't have to do it and can focus on more important things like getting ready for the Waterford Fair.
This is our latest adventure and after 30 years of marriage I think we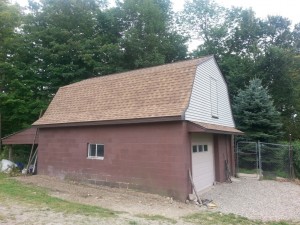 get long great, know what each other wants and can still surprise each other. Yes it takes work, patience and understanding to stay married but well worth it in the long run. Look at the investment in each other and look at what it would take if you wanted to start all over and what you would have to lose. I'm happy where I'm at in life, marriage , work and running WhatPond creating more relationships with other pond owners.
By the way if you look at the top (first picture) this is the sunrise. So if you're chasing sunsets you'll need to head to the other ocean. LOL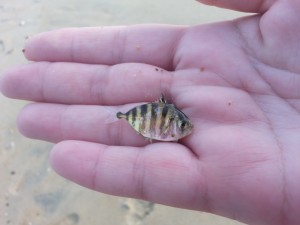 Update: Going through more pictures I wanted to add one of a little fish Wanda caught in the surf, it was still alive so he went back in to grow up.