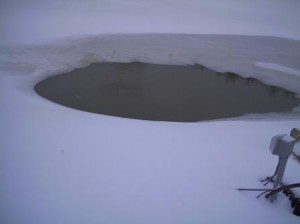 Pros and cons to running you aerator during winter, we'll try to keep it short.
Pro:
Winter aeration can provide your fish added oxygen to keep them thriving even when they slow down for the cold season.
Keeping wanted submerged plants alive. Once the ice forms over the pond we're still good to go since the sun light can penetrate through the ice to keep the plants alive, but once the snow covers the pond the light is gone and so is the light source for the plants to live.
Most important part of aerating over winter is keeping a hole in the ice. With the hole in the ice we can keep the area clear so our wanted plants can get sun light. The other up side to the hole is toxic gasses can be released through the hole, instead of building up under the ice and ricking the chance of suffocating the fish during the winter months.
If you should decide to run the aeration system in the winter be sure to move the diffuser to a shallower location, say half the depth of the pond to keep the chances of super cooling the pond and not cooling the fish to unhealthy temps. This also allows an area in the pond for the fish to warm up and find the temp zone they like most.
Cons:
Having that hole in the ice really brings up the concern of falling through the ice. Even if though the hole is far away from where you are the action created by the diffuser can weaken the pond ice, sort of undermine the entire area where the hole is formed.
Costs for running the pump all winter. The linear diaphragm compressors are already easy on the electric bill but the piston type compressors do use more electricity. We switch out our piston compressor to the linear diaphragm when it's time to aerate for winter. Compressing air creates condensation which usually goes out thu the tubing and diffuser with no problem. Freezing temps could be a problem if the condensation freezes in the tubing or if there is a power failure and freezes in the compressor. When the power comes back on it could damage rhe compressor.
A couple more thoughts:
When setting the diffuser for winter aeration try to position it so the shoreline will also be ice free for the wildlife to get a drink, crazy enough the deer still come from the pond side for water.
If you are not running the compressor for winter lets think about getting the compressor rebuilt and ready for next season. Don't have an aeration system for your pond or looking to simply keep a hole in the ice, contact us and we'll work up a quote for you.
Aeration works and we have sizes from 1,000 gallon pond to many acres.