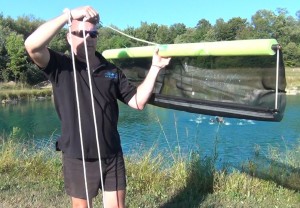 The Deskuzzer works great. We took one out to test on a pond and the pond owner bought it. The next pond we tested it in was left for the pond owner to finish up the job and return it… his remarks getting out of the truck was "this thing is Awesome, how much do I owe for using it? What a time saver".
The Deskuzzer will clean up most everything floating in the pond, what it won't do is Watermeal. Take a minute and watch the video below  as we show how it works!
Ultra tough screen material for the collection netting.
An abrasion resistant guard on lower bar
24 foot long pull line to permit longer throws
5′ Alum. Pole to hold the Deskuzzer when deployed in front of a boat. (add $10.00)
Pleated screen edges to help retain the Skuzz..