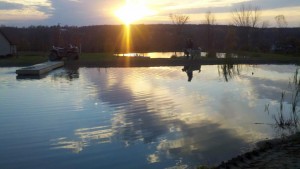 WhatPond, Your Pond Specialist, from Pond Building to Pond Management Solutions.
Let's jump in, get wet, or dirty, whether you're building a new pond or a owner with problems like algae, weeds or fish kills and looking for the right product, tools or resources to fix your pond.
WhatPond has three areas of learning, Pond Building, Pond Management, and Pond Supplies.
Pond Building
Pond Building, for those who are looking to discover the practical and magical benefits of ponds, begin at the Pond Building page and be sure to down load the "Free Definitive Guide to Ponds". Here you'll discover what it takes to build a pond, the two main types and a step by step process how a farm pond is built by follow up email articles.
What a couple subscribers had to say, "I wish I had the Definitive Guide before I built my pond"! And "I"m saving all your emails, so much great information, Thank You".
Pond Management
Already own a pond and looking to improve the water quality raise more abundant healthy fish, limit fish kills, control algae and other problem aquatic weeds. You can discover more by clicking Problem Pond at the top of the site or head to Pond Management page for our Free "Consumer Aeration Report" with follow up email articles.
Pond & Lake Supplies
If you already own a pond and looking for the right products to use, start with our Pond & Lake Supplies page. Here you'll find different categories pond sizes, along with Tools & Decoys, ProActive Water Treatments, Aeration, Fountains and more. Be sure to click on the little details button on the product to discover more insight, videos and how to use.
WhatPond has been in your boots, from building not one but two successful ponds, enjoying the magical benefits to watching them go to the wayside with green colored water, strange smells, weeds and excessive algae growth. Which happens to most all ponds, it could take a couple years or not show up for many years depending on the pond design and water source, but it will happen. Along with the do's and don'ts in the pond building process and what problems can happen over, time.
Your Pond Specialist is here to help breathe life and health back in your pond to be enjoyed again as it once was and provide practical solutions to your special situation. NO two ponds are alike, each one is different and every pond owner has different goals for their Oasis. Although most process's and techniques are similar we strive to work one on one with you and your pond as an individual. Not by a quick fix that comes back to haunt you. But a practical proactive approach to fit your specific aquatic needs. Think of the End in Mind and plan the maintenance up front so there's no surprise down the road.
WhatPond provides consulting for pond building and pond management solutions, proper sizing for pond aeration with aerial mapping, pond fountains, fish habitat, algae, weed control and water treatments. Starting with Proactive approach first and if required a Reactive approach for water clarity and quality needs thru the internet or in person. Please click Contact at the top of the site and let us know how we can help.
WhatPond's goal is to manage and treat ponds without the use of harsh chemicals by using environmental friendly products, tools and resources.
For your Pond Building needs or bringing the magic, fun and relaxation back to your pond, WhatPond, Your Pond Specialist is here to help.