[wp_eStore_fancy1 id=61]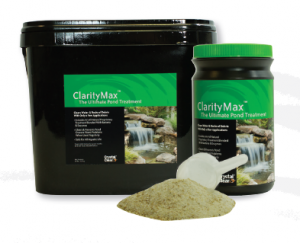 ClarityMax™ multi-purpose cleaning action cleans ponds with an
unprecedented combination of activated barley, natural bacteria, enzymes
and a powerful secret ingredient. These ingredients work in tandem to
clean, polish and break down organic materials that create problems for
pond hobbyists on and around waterfalls, streams, plant pots and filtration
systems. ClarityMax™ also is designed to maintain crystal clear water.
CCB051-1-MAP ClarityMax™, 1 lb Treats 500 Gallons for up to 4 Months
CCB051-2-MAP ClarityMax™, 2.5 lb Treats 1,250 Gallons for up to 4 Months
CCB051-6-MAP ClarityMax™, 6 lb Treats 3,000 Gallons for up to 4 Months
CCB051-25-MAP ClarityMax™, 25 lb Treats 12,500 Gallons for up to 4 Months