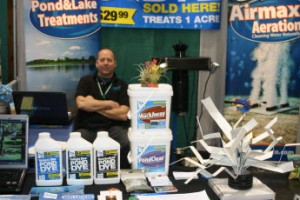 Just a quick post after a couple weeks of getting ready and recuperating from three back to back shows lasting over a week and a half. Starting off with the Home and Garden Expo then traveling down to State College for the Pennsylvania Lake Management Society conference and back to Erie Bayfront for the Sport and Travel Expo.  Coming back to Erie should have been quick and easy but all of the sudden the road went from dry to a black color…it was not wet but black ice had developed over a few miles on I-80.
I will say I believe in using studded tires still a little squirrely but got in under control unlike over 8 others that I saw who have a long time to get home or may not make it home at all. I thought about posting pictures but… to be on the courteous side we'll leave it alone and send out prayers to those families.
First I want to thank all of you for stopping by the booth asking questions about your pond and lakes and learning there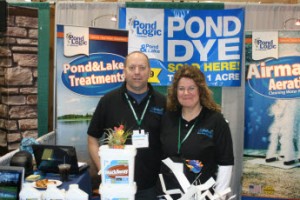 are ways to improve the water quality and how to take a Proactive approach to pond management.
For those folks who have left their address we are working on the pond calculations for proper sized aeration system and will be contacting you soon. If you left your phone number we will be in contact to go over your questions and special pond needs as well. And for anyone who did not leave a way to be contacted and still have questions, please click the yellow, blue striped fish on the left and submit a ticket, simply fill in the blanks and let us know how we can help or what your pond problems are.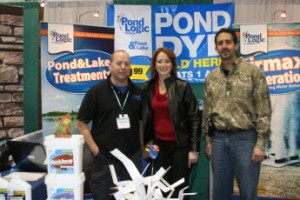 We are here to help you in creating the pond of your dreams, repairing and bring back the the pond you once had, even enhancing the fish habitat. From fountains, aeration systems, Dye in 3 different colors, beneficial bacteria and treatments to clear those waters, WhatPond is excited to help you and your pond to bring back those special evenings and to create new ones as well.
I would like to say thanks to Mark and Renee from Erie Promotions and Expos for their promotion of the events and inviting us back for the Sport and Travel Expo.