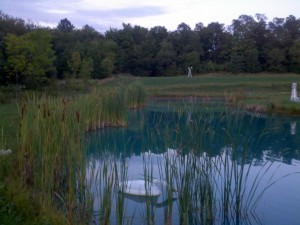 What should we do to our pond before the ice and snow starts to accumulate?
Looking at one item to prepare the pond for winter and benefit from next spring is weeding the pond, I know it sounds weird because we weed a garden not a pond.
Weeding the pond is simply removing the mass amount of plants that will die during winter and end up in the pond turning into nutrients, more muck build up and grow even more weeds next year.
Starting with emergent plants such as cattails, the best way is to cut below the water level. If the pond is still low from summer evaporation or slow leak this will be a little easier to cut rather than cutting under the water. The reason for cutting them below the water surface is to reduce the growth rate next year as they cannot consume oxygen being under the water surface. The most important part is to get the main stalk and seed pod out and away from the water.
Next are the submerged weeds which are below the surface of the water. These are weeds or plants rooted at the bottom growing up to the surface of the pond. While they can be a nuisance they do benefit the fish as cover for the little ones and places to hide for the big guys to ambush their prey. Submerged weeds will die off once the ice is covered with snow. Then fall to the bottom to become muck and nutrients for next year's growth. Cutting them out and removing them will help to reduce nutrient, muck and toxic gas build up. Using a weed cutter and pond rake can be a little work out, but getting these plants and weeds out of the pond for the winter months is beneficial for the pond and fish.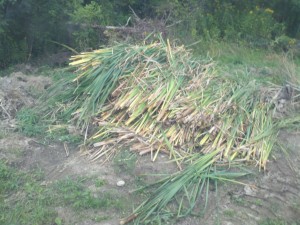 Fall also means colorful trees and lots of leaves.  But once they drop they tend to find their way to the pond. Look for areas where the leaves pile up and sink in the pond, prevailing winds can help push these leaves to one side of the pond. Then rake them out and dispose of them. Water gardens and smaller Koi Ponds could be covered with netting to keep the leaves out.
Keeping as much plant life from dying or ending up in the pond before winter is the goal to reducing nutrients and more muck build up for next year. Take a Look at the video below.
Related articles:
Fall Pond Cleanup
How to Kill Cattails
Winter Fish Kill