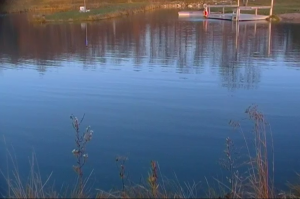 Winter Pond Aeration is a little different from aerating the pond all summer long, in fact if you choose not to aerate during winter it is your option. Since aerating all summer long we have built up a bank of oxygen from top to bottom and expelled the toxic gasses building in the bottom of pond.
Why would we aerate during winter? Ice is generally no problem as the aquatic plants still receive sunlight and are able to stay alive to produce a small amount of oxygen. It's when the snow covers the pond  problems do arise. Without sunlight the plants can' live, they'll die off, decay, creating more muck and toxic gasses at the bottom of the pond.
If the current aeration system is still running and the water temperature has dropped to  50 degrees. There is the option to turn off the system completely or shut down all but one diffuser and move one diffuser to the dock, deck, shelf or the aquatic plant area that you want to keep alive. This allows sunlight to the plants, toxic gasses to escape, and air to water oxygen transfer on the open water.
When moving the diffuser for the sake of keeping an ice free area, position it at a place of half the depth of the pond. This will help prevent super cooling of the entire pond depth and the chance of hurting the fish cooling the water below what they can handle.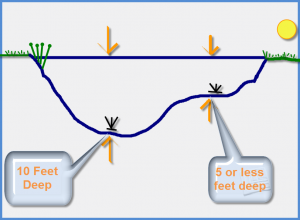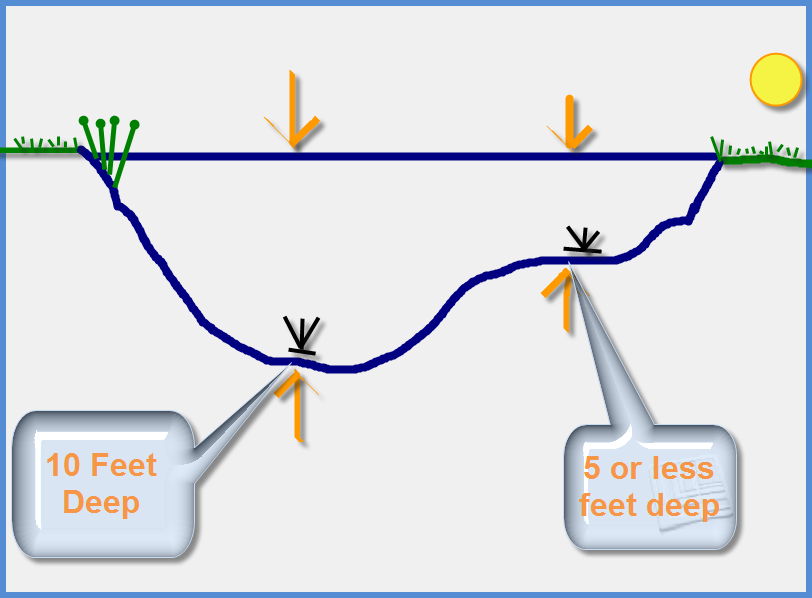 Water Gardens and small Koi Ponds place the stone or rubber membrane diffuser on the shelf or ledge.
With algae, leaves and weeds that dye off decomposing and creating deadly gasses like carbon dioxide, ammonia and hydrogen sulfide are result of the decaying process which can over take the pond suffocating the fish, known as a winter fish kill. Preventing the gas build up in the pond during winter can be helped by keeping a hole in the ice allowing the gasses to escape. Keeping a hole in the ice can be expensive if using a heater or a water pump. But much less expensive in operating cost is an aerator using little electricity. It's a lot cheaper to move air than it is to move water or generate heat.