Come visit us at the Erie Travel & Sport Expo at the Bayfront Convention Center in Erie, Pa.
"The Sport and Travel Show"
March 2, Noon – 8:00
March 3, 10: – 8:00
March 4, 10: – 5:00
Let's get you on the schedule to get the most out of your pond this year and years to come.
Click the picture below to find our booth #37, the main entrance is on the right.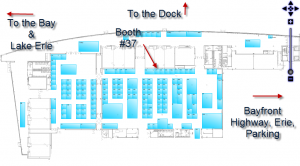 We will also be at State College main campus on the 7th and 8th for the PALMS Convention.
Don't forget to check us out on Face Book, click the "LIKE" button at the top to unlock the page and access the Free education page.