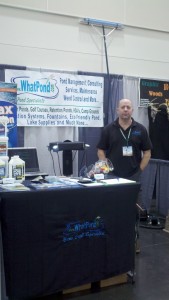 Great weekend at the Erie Sport& Travel show, we really enjoyed talking with all of you and collectively working out some of the problems pond owners are facing and the ways to help correct those problems, bring health back to the pond, fish and our enjoyment of our ponds.
The funny thing was Friday morning when I text the little woman to say we had a bad booth. We had already set 90% of the booth up and no one was next to us, hmmm who is going in that booth?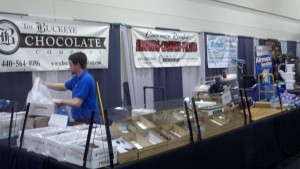 So after she panicked that something happened to our booth I text her back to say why, because of what they sold… Chocolate, fudge and cinnamon coated almonds, pecans and cashews made fresh on the spot. The smells just lured you over there. What an awesome fellow and yes very tasty treats from Buckeye Chocolates.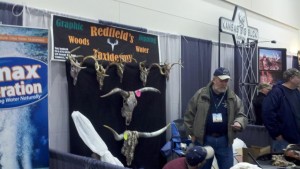 On our left was a unique process where they can take just about anything and Create graphic dipping from different color camo to wood grain and wraps. Skulls, Guns, golf clubs, hard hats and truck part just to mention a few then clear coated for protection. These prints are crisp and look like 3D very impressive looking. You can mail your parts in and once they are done they'll be mailed back or see them in person. Redfield's Taxidermy
Two spots to our left was another great fellow who set has a set up for guided hunts, White tail, turkey and coyote with either rifle, archery or muzzle loader . One of the most experienced guides you know he is doing it right. Check out the Kansas Big Buck Outfitters for your next hunt.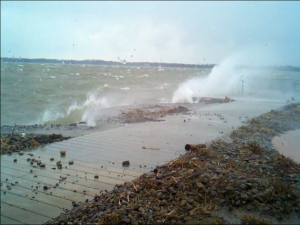 The weather held out, or at least we didn't get too much snow, but the wind was crazy on  Saturday. The bay was nothing but white caps and speaking of caps you better have held on to yours in the wind. With the wind pushing the water and showing the white caps all I could think about was erosion in the bat and around the lake even our ponds are effected. May be not getting white caps but even the small waves are constant lapping at our pond edges.
During the Expo the top questions and or pond problems are weeds, algae and aerating a pond, not just adding bubbles but actual beneficial aeration. We do have the Consumer Aeration Report on the Free Education page.
Stay tuned and we'll be covering some of the answers to algae, weed control and aeration in upcoming posts. Did you see us at the Expo? Drop us a line to get going and make this year the best year for you and  your pond.