What is a rubber membrane diffuser? (video below) The diffuser part of the phrase is when a volume of air is broken down into smaller volumes of air. Sort of like a watering vase. There is the main storage area holding water and when poured out the spout it reaches small holes diffusing the water into smaller drops.
Rubber membrane diffusers have been around for some time now and used for pond aeration. They are what is used in new pond aeration system and to replace the old school stone diffusers that can plug up so quickly. Depending on the water quality of the pond the stone diffuser can plug up or need cleaned in as little as 2 weeks. Cleaning the stone diffuser or air stones generally use muriatic acid or as little as water and a brush being careful not to break the stone.
Rubber membrane diffusers offer easier cleaning which can be done right at the air compressor or if need be brought up to the surface and gently rubbed by hand or gloved hand.
Here at WhatPond we did start out using an air stone diffuser and yes it clogged up, took a few month but ended up tossing it instead of cleaning it and the second one broke during the cleaning process.
Once we got our proper sized aeration system it came with the rubber membrane diffusers. The bubbles where even
smaller than the stone diffusers, which is good because the smaller the bubble the more water it entrain into the bubble column.
Yes they did get growth on them but once you pull it to the surface and gently stroke the membrane the particles come right off. I've used a couple different brands or should I say styles of rubber membrane diffusers and the best so far and what I use today is from Airmax Eco. As seen in the video the air emits from all around the diffuser tube, this entrains more water from the bottom of the pond to the surface allowing the toxic gasses to escape and bring more oxygen to the floor of the pond.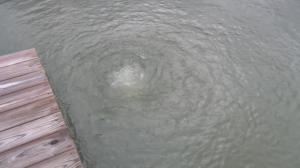 The next thing I like is if a turtle, muskrat or who knows what ripped or harmed the rubber part of the diffuser, which is all we would replace. The other brands the whole diffuser would need replaced.
Be sure to watch the video for more details and see it in action.
I'm not sure why, but I usually ask my little woman to watch the video before I put it up, and for some reason I could hear her laughing a little more than normal. Comments are always welcome.
Or let us know what you think on Face Book.
For more information on pond aeration check out the FREE
Consumer Aeration Report
When you are ready to replace the old air stones shoot us an email using the
contact
page.