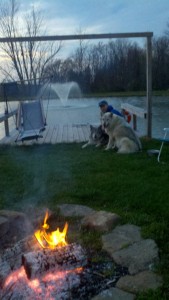 What a great couple weeks of warm weather but now back to the normal temps. Maybe your pond got a jump on spring too. We kept hearing the toads and I really didn't think they would be mating this early but after walking around the pond, yep there are eggs. Even the perch have left their eggs.
It's like all winter long we have been waiting for the snow to dump on us or go into the sub zero temps. For a couple weeks but nothing really happened like that.
We are past the hump for severe winter weather but could still get snow and we are seeing the early signs of leaves on trees, flowers blooming and as mentioned above the pond life all getting an early start this year.
Typically we don't plant corn until early May and still worry about frost. This could be a really bad year if the jet stream changes and drops in cold temps or too much snow.
With the couple weeks of warm weather has  given the ponds an early jump on algae. Pond Dye is one of the tools I use to help keep algae blooms down and keep the pond weeds from getting sunlight.
As for the aeration systems, I'm still waiting a bit to move the diffusers in to the depths of the pond and want to be sure we are in a stable warm weather pattern which will keep the ponds above 55-60 degrees.
As you can see in the top picture we got a chance to enjoy the pond, fountain and a little fire before the weather cooled off. The only concern about starting the fountain early is if we drop bellow freezing too long and the water freezes. With that in mind we run it at night just in case and benefits the fish as well by adding aeration to the top waters of the pond.
Just an FYI, Pond dye can be put into the pond as soon as the ice is gone, beneficial bacteria such as Pond Clear, Muck Away and bottom diffused aeration we should wait until the pond water is holding around 55 degrees for the bacteria's to work and not to cool the pond water too much and take a chance on harming the fish.
Related article: Winter Fish Kill