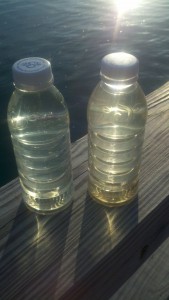 Blue Pond Dye is the most used and popular color in pond dyes. Why? There's a couple few reasons why the blue is more popular. Yes there are other colors of pond dye like Black , Black &  Blue mix but the Blue is the most forgiving.
I know it seems I'm obsessed with Pond Dye but wait, maybe so maybe not but what I do want to do is get it all explained since there are some lingering questions since the last Pond Dyes post.
Natures Blue Pond Dye will color the water in almost any case of water quality while Black Dyemond and Twilight blue may not have the same results in producing there intended color. (Left image is, Two different pond water samples. The right bottle is turbid and settled out. The left bottle from a clear pond.)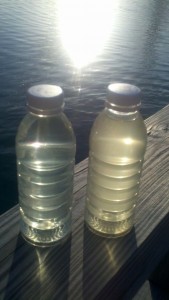 Here's what happens, the blue dye when poured into a turbid body of water, whether it be from suspended clay particles or excessive algae will still color the water. If in fact your having an algae bloom, the pond may look a little fake blue until the algae has had time to suffocate from the blocked sunlight.
If the pond water is turbid from suspended clay particles then the water color may have a different shade of blue until the clay settles out or the clay can be flocked out. (Right Image, Right bottle shaken, showing the clay particles suspended in the water. Both bottles are from ponds treated with Black .)
Using Black  Pond Dye in a pond with suspended clay not much happens. The color could turn a little greenish or more of a chocolate milk look. The only way I can explain this is to think of kitty littler, it is made from clay. The clay will soak up the liquids and the black dye seems to be soaked up as well.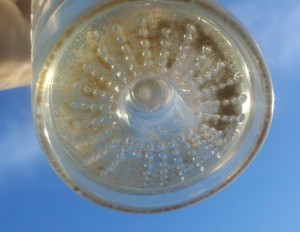 As you can see in the left  shows the small amount of clay that can cloud up the pond but there are other particles that can do this as well such as an algae bloom.
The bottle on the right had a reading of 8″ with the Compact Secchi Disc, on the left the reading was almost 20″ and the Black shows great in the pond.
Stay tuned as we uncover Eco Friendly ways to clear up the cloudy pond water and take a minute to look at the Compact Sechi Disc. A WhatPond exclusive product just released.