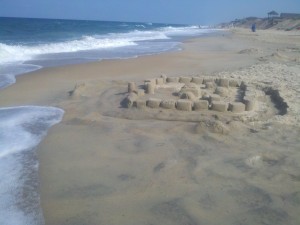 I did a post a long time ago about the Outer Banks of North Carolina more about purchasing a home or condo but here I want to tell you more about the vacation time, what we have done there and why we like the OBX (Outer Banks) time away.
We use to go camping at least once a year, sure it was nice to get away and live in the mini house called the travel trailer. At first it was fun but over time I personally became restless after a few days and wasn't much fun after that. We ended up not taking vacations and would do the stay home work vacations like building a barn and finally building our first pond which is where this whole website started from.
Then our neighbors asked if we wanted to go on vacation with them, explained what it all entailed and we went to check it out, wow I've never felt so relaxed, at ease and not have a care in the world for a vacation as we did when we went with them to OBX.
Even after sun burning my feet that swelled so big they wouldn't fit in my shoes and my toes almost disappeared, I still had fun, relaxed, fished, drove around for the sites and of course wore socks from that point on. Go ahead and laugh, yes I looked funny walking the beach in socks. But that goes into the redneck joke of always being in 8″ high boots and never "tanning" my feet.
Ok, on with the story of our vacation from the first year and what we did to the years after and what we do plus some more info about the trip for your reference.
First time to the OBX? There is a ton to do and see if you don't do any research before you go, don't worry because where you check in and at any store there are free books and pamphlets to take and see what is available to see, coupons, attractions and to do. Just  a thought for you is not to try to get everything in the first time down, pick the major ones and and put the rest on the list for next time.
Our first year we ran all over the place to see as much as we could, The Lost Colony over in Manteo and drove the OBX checking out the light houses all the way down to Ocracoke where we rode a ferry from Cape Hatteras to  Ocracoke island. Scenery is all about the same with houses, sand dunes or short trees that have been windswept for years they seem to lean that way too. Remember you are on an island of sand so no hills and not a lot of opportunity to see the ocean as you drive since there are sand dunes to protect the island from hurricanes and the constant pounding of the waves. Almost forgot but one of the main routine stops we make is the Christmas store in Manteo, totally amazing at all the stuff this store has, from Christmas stuff to paintings, books , Halloween, old fashion candy store, jewelry and more. Once you turn right on 64 it will be on your right a short distance down the road.
Yep there are plenty of little knickknack places to stop in, places to eat and grocery stores to stock up for the week, so no need to pack a week's worth of food. Maybe your favorite snacks and drinks but it's all there if you need it. Along with plenty of local restaurants to choose from for the occasional night out on the town or the major food chains you have at home now.
Where should you stay or rent? Of course it would be the house or motel on the beach. Just the two of you? Look for a motel, hotel or condo. If families are going then look at renting a house, there are up to 8 bedroom houses along the beach and this is something that needs planned a year in advance to get the place you want. Choose a few in case you can't get the reservation. The next thing to think about is what time of year to go. The rental fees from Memorial day to Labor day are at the peak of the season but before and after the rent is less expensive and much less traffic or waiting in line at the grocery store or restaurant.
 Having a full house rented, each family or bedroom has their own agenda of shopping, sightseeing, or relaxing at the beach for the day. Which brings up another reminder about what and when to do it? Check the weather forecast a soon as you get settled in, and then plan accordingly. Rainy days are meant for shopping and sightseeing like the aquarium or indoor type events. Sunny days for fishing, hanging at the beach and sightseeing for the outdoor sites.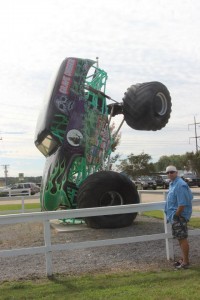 Again if you are going for time at the beach then get a beach house which usually has direct access to the beach, if your one road back then you;ll have to pack and walk each time to the beach. With kids you may want to stay around Nags Head or Kill Devil Hills that have more attractions for the young ones.
What to bring? Usually when renting a house or condo you'll need to bring your own sheets, and items for the bathroom from TP to tooth brush. For food only bring what would be a staple that you need every day, there are the Food Lions up and down the outer banks. Sun screen, sun screen , sun screen is a must, keep the kids covered in it and be sure to get your self covered up. When you hit the water re-apply even if it says waterproof, don't make the mistake I did. Adult beverages? Yep plenty there too. When in doubt call the place you're renting form to be sure what to bring along. Going fishing? you'll need a license which can be gotten from any of the sporting stores. Spending a lot of time at the beach then look into a big umbrella or take along a easy up canopy, the ones that fold up for easy carry. If you find a spot on the beach where you can leave it set up then take down the covering and leave the frame on the beach, just be sure you're away from the high tide. These umbrellas and canopies come in very handing to get out of the sun but still be at the beach. Also for the canopy check out the local shops for sand stakes, it's a big screw type stake to help hold your umbrella or stake the canopy so it doesn't blow away. The beach will almost always have a breeze and if it is too windy then it will be like getting sand blasted.
Bring along a couple coolers if you wish to bring home any sea food or your catches from fishing. One place we always stop is the Carawan Seafood store, 5422 North Croatan Highway, it's on your right after the long bridge and before you would turn to go up to Duck, pick some up on your way or on your way home.
If you plan to fish and don't bring a pole there are places like TW's Tackle for bait, supplies and licenses. Bring along your camera or video camera to capture all the sights and adventures. Shore fishing is fun, you get to enjoy the beach and hang with family and friends. And if you want to get away there are charters as well to take you out on the ocean. DOn't forget the Dramamine.
Getting there from Erie is about 11-12 drive depending on how many stops you would make and for how long, traffic is another factor but usually worse if you are going down on a Saturday, Sunday is still busy but not too much stop and go. We'll get to that in a minute but first let work our way out of Erie. We usually take 79 to the turnpike and jump off at the Breezewood exit through Berkley Springs, Winchester to Fredericksburg then I-95 to Richmond using the 295 bypass to 64. If 64 is busy stay on 295 to 460, it is a 55 mile road and monitored heavily. This route keeps you from going around DC which could be another big delay. If you don't like the turnpike stay on 79 to  68 and take that across, more scenic and less hectic than the turnpike you'll even go through a mountain pass called Sideling Hill If you have time stop there and take a look, taking 68 adds about a 1/2 to the trip.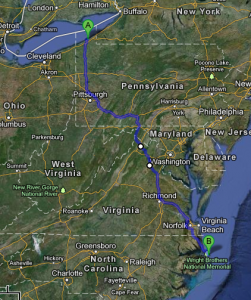 Another way to look at the routes is 79 to the turnpike has three roadside rests, the turnpike to Breezewood has three roadside rest (unless one is being repaired) and I-95 has two roadside rests. (If you take I-68 there is one at the beginning and one at the pass) From Breeze wood to I-95 you'll be looking for gas stations. Then it depends if you take 64 there is one that I remember and the rest of the trip will be searching for gas stations. Here's a link for the directions we use, the only difference is getting off the 295 at 64 or dropping down to 460 if 64 is too busy, click the image for the directions.
Figure around 11-12 hours for the trip from Erie, depending on how many stops you make and how many people are in the group. Sunday drive is a lot less busy on the roads compared to Saturday rentals and the traffic on 64 heading to Virginia Beach, if you do travel Saturday then drop down to 460 to msis the Virginia Beach traffic.
Once you are finally there, got the keys to where you are staying it's time to say ahhh  we made it. Then you hear this noise from the beach. Yes it is the constant pounding of the waves, over and over again, all day long and all night long. Who can relax with all this noise, how can you sleep with all this noise? Don't worry after the first ½ day your body comes in sync with the sound and this massive pond will just put you at ease, don't fight it just relax. It's not like Lake Erie where you need to wait for a boat to go by or wait for a thunderstorm to see waves.
Forgot your swim suite? No problem thee are plenty of places to shop for a new suite, beach towels, sandals or anything else you may have forgotten. A couple of stores we visit are Wings and Sunsations, every few miles you'll see these store pop up. A couple of our favorite restaurants are Owens and the Black Pelican and there is the famous Dirty Dicks
Don't forget the ocean has tides, where the beach is larger at one time and later the beach gets smaller, so keep that in mind if you leave something at the beach. It could be gone by morning. Even if a storm rolls during the day or night, your beach area can change contour or become smaller or bigger, it depends on the wind and waves. There are life guards but not as many as Presque Isle, be careful and keep an eye on the kids at all times. Take note up and down the beach and look for red flags if you see them stay out of the water. We have an undertow in Lake Erie at times and so does the ocean which is also referred to as a Rip Current, Check the weather when you head out to the beach they will most likely add an alert if one is needed, I like to use NOAA Weather, gets to the point without all the fluff or news. Use the zip code feature on the site and use 27959 as the zip code. You can even click on the map at NOAA for other locations weather reports.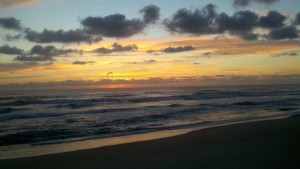 Enjoy your stay be sure to take time to relax, that's what your there for. I know some folks like to schedule everyday going here or there but if you miss doing something there is always next year. Keep your cool driving down and back there is a lot of traffic over the course of the day. The few years we raced go Karts I learned a lot about the other drivers and could run wheel to wheel and know there moves. On your trip you don't have any idea as to what the car next to you will do. Another big note is watch a few car length in front of you to see what is going on, if something should happen ahead then you can prepare. Keep an eye on the rear view mirror and who's on your sides. Different roads have different driving characteristics of drivers, for example on I-95 you'll see the speed demon using all 4 lanes to get down the road faster. One last thing is if you find yourself watching the car bumper in front of you and nothing else, pull over and take a break because you are not alert to the rest of the road. Better safe than sorry.