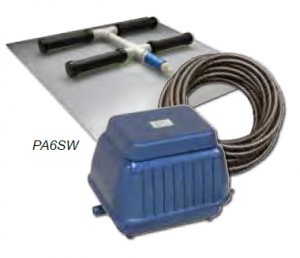 For ponds 7′ deep or less these linear powered aeration systems are a great choice.
• Extremely energy efficient
• Very quiet operation
• Long lasting, oil free design
• Weather resistant enclosures – can be used outdoors. For maximum longevity use additional protection from elements.
• Two year warranty on compressors, five years on tubing/diffusers.
Choose from either single or double diffuser system. Single diffuser is ideal
for round or irregular shaped ponds. Use the dual diffuser system for long
and narrow or irregular shaped ponds. Both kits include Quick Sink tubing
for easy installation.
These aerators are quite and are a linear diaphragm type compressor, high volume low pressure means we need to be sure we don't place the diffusers too deep. The deeper the diffuser the more often the pump will need to be re-built. The double diffuser, PA8SW for example would be great to use in a long skinny pond, tear drop shaped or kidney shaped that is 75′ wide and 150′ long 7′ deep. The PA6SW is for round or square ponds around 25′ to 75′ in diameter. Please see below for help choosing the right aeration system.
Need help in choosing the right size aeration system? Please use the Contact button on the top of the website to let us know how we can help. We can also help design the system if you do not have electric at the pond edge if needed.