[wp_eStore_fancy1 id=59]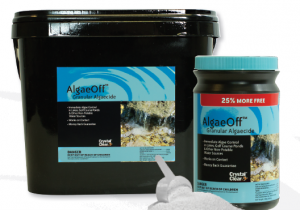 CrystalClear® AlgaeOff® utilizes the latest in oxygen technology to remove string algae quickly and efficiently.
CrystalClear® AlgaeOff® is an EPA registered, granular algaecide that works in seconds, adds oxygen to the
pond, removes odor and is the only water treatment product on the market with a money back guarantee.
CC074-1 AlgaeOff®, 1 lb Treats 400 sq. ft. NEW
CC074-2 AlgaeOff®, 2.0 lb 8,00 sq. ft.
CC074-10 AlgaeOff®, 10 lb Treats 4,000 sq. ft.
CC074-25 AlgaeOff®, 25 lb Treats 10,000 sq. ft.