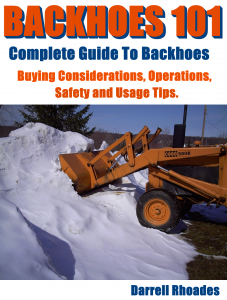 Backhoes are a very useful machine but can be tricky to operate if you don't know how. Not only tricky but very dangerous as well. Over the years we've had folks wanting to know how to operate a backhoe for that day when they might need to or so they could purchase their own to do large chores around the property.
With this in mind I wrote a small book about how to purchase a backhoe and how to operate, including safety tips as well. Even before we sold the backhoe I went did a walk through about the backhoe and its functions, even did a short video on the dozer as well. In the book are the details for the 2 hour video. The book and video are only downloadable at this time.
Book summary:
This eBook discusses everything you need to know about backhoes. A helpful buying guide with criteria for shopping for a used machine to get a quality piece of equipment for a lot less money than buying brand new.
 Also, we will look at the various uses of and benefits of backhoes. Backhoe operations are important to learn, so I will address the various ways to work them for different tasks, and how to use the different parts, such as, the front loader and the backhoe.
 And, most important are the safety tips, which, are numerous to be sure that you operate this machine safely and not cause any injuries to yourself or others.The book is 30 pages and the goal is to help land owners learn how to buy operate and be safe on the machine, it is not a full blown training guide learning how to become a hire-able equipment operator.
 When you get your new toy, have a lot of fun, but always take the safety precautions very seriously and be safe! Be sure to check the Resource section for instruction to download the video. 2 hours long.
[wp_eStore_fancy1 id=192]