[wp_eStore_fancy1 id=133]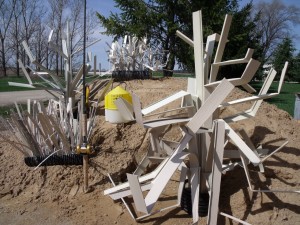 The starter pack gives you all the fish habitat structure you need to grow big fish! Bass and crappie love cover and this group of fish cover will hold them where you want them.
The pack includes (4) each of the Keeper,safehouse and cradle for a total of twelve artificial fish structures to cover all depths and sizes of fish.
The cradle is designed for shallow water applications to hold and rear fry to the preferred forage size. These units have hundreds of feet of fine strands and over 22 square feet surface area. Minnows also breed in these units to hold down mosquito larvae and provide forage for other species. Recommended depths of 2-4 feet.
Next, four of the most popular safehouse, boasting over 44 square feet of surface area,standing 42″ tall and opening up to 72″ wide.
Topping off with deep cover, four of our largest model the keeper, each standing 48″ tall and opening up to a full 84″ wide to provide fish with over 62 square feet surface area.
This group of fish habitat provides plenty of room for a substantial impact to your habitat needs. Best results occur when structure is placed in groups of 3 or more units.
All products made in the USA with all American made materials. Go-green and help restore depleted and lacking fish habitat today!