Aerates Ponds up to 1 Acre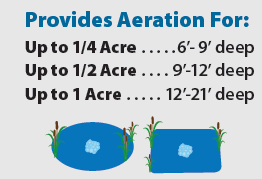 PS10 System Specs:
Max/Running Amps . . .  3.1 / 1.0
Volts . . . . . . . . . . . . . . ..115
Max CFM . . . . . . . . .1.7
Max Depth . . . . . . . . 21'
Op. Cost / Mo.* . . . . . $5.80 (24/7)
• (1) ProAir™4 Weighted Diffuser
• Airmax® Composite Cabinet
• RP25 1/4 HP SilentAir™ Rocking Piston Compressor
PS10 Includes:
#600821 – PS10 with No Airline, Set Up for 5/8" Tubing Only
#600822 – PS10 with 100' 3/8" EasySet™ Weighted Airline
[wp_eStore_fancy1 id=12]
The system is ready to set at the shore line.
This is great if you have power on shore. If you do not have power on shore and would not want to run an electric line to the shore. Another option is to use the direct bury tubing from the house or out building that has GFI electric power outlet.
This way the compressor is at the building and then the direct bury tubing is run to the pond edge… attach the direct bury tubing to the Airmax easy set self weighted airline at the shore line, then the diffuser on the other end and place the diffuser in the center of the pond or designed location.
Compressors for the deep water systems ares designed for ponds and lakes with depths of 8′ or deeper. Also available in 220 volt as an option.
Fittings Included:
4 490158 – 1" Hose Clamp
1 490121 – 3/4" Threaded Coupler
2 490118 – 1/2" to 3/4" Reducer
1 490118 – 3/8" to 3/4" Reducer
1 490313 – 3/4" End Cap FPT