SW40 Four Plate System
Provides Aeration For:
Up to ½ Acre…..Up to 6′ Deep
Running Amps
0.9
Volts
115
Max CFM
4.9
Max Depth
6 Feet
Monthly Operating
Cost
$5.04
(24/7)
• (4) ProAir™2 Weighted Diffusers
• Airmax™ Composite Cabinet
• High Efficiency LR50 SilentAir™ Linear Diaphragm Compressor
• Choice of 100′ or 200′ 3/8″ EasySet™ Airline or No Airline
[wp_eStore_fancy1 id=42]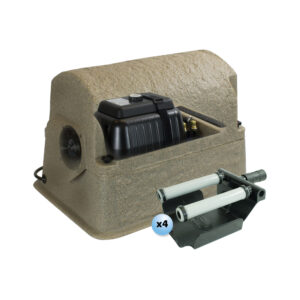 The SW 40 is the unit to use for your shallow pond. Up to 6′ deep and 1/2 acre is size. Other pond sizes and shapes are able to use this system, see below to contact us to calculate your pond.
If your pond is smaller than 1/2 acre please see the SW20.
If you need help calculating your ponds acreage please click the fish on the left and "submit a ticket" Or click Contact -Us in the top right of the menu.
[wp_eStore_fancy1 id=39]