[wp_eStore_fancy1 id=155]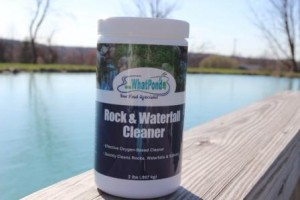 • Effective Oxygen-Based Cleaner
• Quickly Cleans Rocks, Waterfalls & Statuary
What Pond's Rock & Waterfall Cleaner is a dissolvable "no mess" formulation that brings a safe and powerful oxygen based cleaning to waterfalls, streams, fountains, statuary and other water feature surfaces. Great for use in koi ponds.
DIRECTIONS: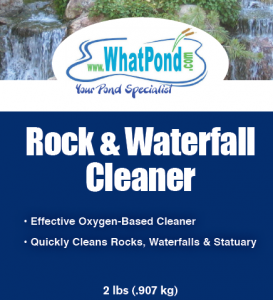 For spot treating waterfalls & streams:
• Turn off waterfall pump and apply a light layer of powder to the
problem area
• Let stand while the cleaner is working (usually 10–15 minutes)
• Turn pump back on
For treating underwater rocks, pond sides, ledges, fountains
and statuary:
• Apply a light layer and measure results
• Apply a second layer as needed to complete the coverage
desired.
Avoid contact with plant leaves. Product may cause short term spikes in pH levels. Keep out of the reach of children. Great for ponds with fish & aquatic life.
CAUTION: Harmful if swallowed. Eye and skin irritant. Avoid contact with eyes and mucus membranes. In case of eye contact, flush with water for 15 minutes and call a physician. Do not injest. If swallowed, do not induce vomiting. Drink water and seek prompt medical attention. If inhaled, immediately move person to fresh air, and call a physician. In case of skin contact, remove contaminated clothing and wash the infected skin with water. Wash clothing before reuse. Contains sodium percarbonate and sodium carbonate.