Description
Definitive Guide to Ponds
 "Pond Building 101"
Formerly called the "Definitive Guide to Ponds"
Pond Building 101 cover's the various types of pond, How Ponds are built and what tools or equipment are used to construct the ponds. In this Guide You'll Discover:
What's the difference between above ground or below ground?
And why this is crucial to know before you start.
Different types of ponds and their  building process…
Will You're Pond need a liner or not
Building a Koi Pond or Farm Pond?
Starting the pond wrong will  Waste time & money!
Also Available on Kindle for .99 cents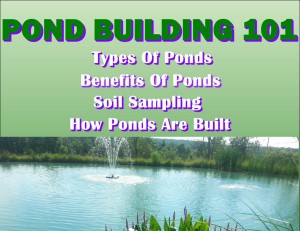 You can Click the image to register for the Ebook and recieve additional informational email about building a farm pond.
Or purchase it for $o.oo and simply download the ebook.