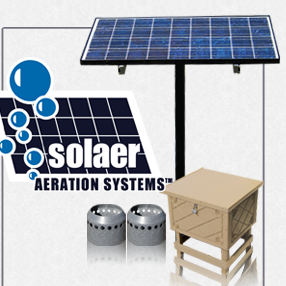 The 100% recycled plastic cabinet houses all of the critical components including the charge control system that monitors the solar panel array, the equipment load and the battery back-up system. The battery back-up enables the system to run at night or during extended periods of poor weather. Solaer is designed to operate 20 hours per day and has enough battery capacity to run the system up to three days without any solar input. Solaer systems include solar panels with pole mounting bracket, a specially designed, energy efficient compressor, a high volume cooling fan, a fully adjustable aluminum manifold, Duraplate™ diffusers and self-weighted Alpine™ tubing.
THE CABINET : Attractive, 100% Recycled Plastic Cabinet | 37 cfm Cooling Blower |
| Fully Adjustable Aluminum Manifold(s) | Programmable Digital Timer | Sound Reduction Package |
| 1" ASTM Certified Acoustical Foam | Charge Control System | EcoFlow 24V Compressor |
BATTERY : Back-up for night or extended poor weather | Capacity for 20 hours a day operation |
SOLAR PANEL : 24V High Efficiency | Top Pole Mount | Panel Size may vary depending on availability |
DURAPLATE DIFFUSER : Self-Cleaning | Non-Clogging | Self-Weighted | Fishhook Resistant | High Oxygen Transfer |
ALPINE TUBING : Self-Weighted | 1/2" I.D. with 1/4" Sidewalls | Fishhook Resistant | Will Not Kink or Break |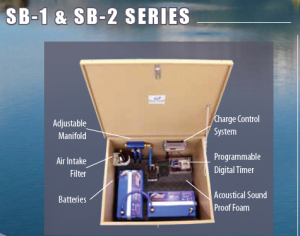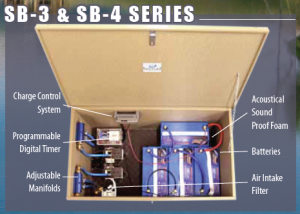 We at WhatPond have not had the opportunity to try out one of these systems yet, but does seem to be the way if your pond is not close to an electric source or you would rather not use electric. Keep in mind if your pond is in the woods that this may not be an option for the pond due to needing ample sunlight for operation and charging the system. If you are interested in one of the systems please contact us by email or the contact page to help work out the proper size, shipping details and discounts if applicable.