Welcome Mother Earth News visitors. Wasn't this an awesome event? It was an honor and a privilege to be a part of the Fair and have the time to talk with you 1 on 1. Whether you spoke to myself, my wife Wanda  or Cary Martin we want to thank you for your passion, questions and concerns about cleaning up your ponds in a natural more permanent way by working with mother nature and not  using harsh chemicals. Take a minute and fill out the contact form found at the top right of the website, let us know the approximant size, depth and location of your pond. With this information we will calculate the proper size unit that fits your pond water quality needs.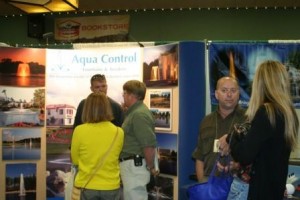 Even those of you who have a dream to one day build a pond, feel free to browse around the website and blog for tips and information even sign up for the free "Definitive Guide to Ponds", what types of ponds and different equipment use to build these ponds are included, with follow up articles about building a pond. Simply fill in your name and email on the right under the video. If you don't want to wait for the weekly articles you can get all the information in an easy downloadable format that you can reference at any time. Pond Building 101
Now if you missed our booth or not quite ready to improve your water quality. Please feel free to attend our free email workshop on water quality. Well over 2 hours of video discovering what is below the surface and how install a fountain and bottom diffused aeration with more to come at Pond Aeration 101
Again we want to thank You for attending the fair and stopping by our booth. And also a big round of applause to Mother Earth News with their first very successful fair. And a big thank You to Mother Earth News for all the hard work you put into making the fair a success. See you next year!
Talk to you soon.
Have a GREAT day and take care!
Feel free to leave a comment, they're always welcome.